How to Detect Bitcoin Ponzi Schemes and Avoid Losses
Bitcoin Ponzi schemes, broadly known as HYIP (High Yielding Investment Program) was once a centre Bitcoin investment's programs and continues to exist in the Cryptocurrency industry. Boasting returns ranging from 15% daily to 1000% or more in three days; these schemes lure people by offering a high return on investments.
A Bitcoin pyramid scheme is a platform where the funds from new investors generate returns for the old investor. Such programs rely solely on new investment and massive advertising campaigns. Once the inflows stop coming, the schemes plummet, leading to loss of entire capital for the investors. Imagine you have $100 today, and after a few days, they turned to $300 or more by doing absolutely nothing!
The Cryptocurrency ecosystem is rampant with Altcoin and Bitcoin scam platforms, marketed on various Bitcoin advertising networks. I was also a victim of such a scheme during the early days of my Crypto career. However, I quickly came to know about the different methods to detect Bitcoin Ponzi schemes and did never lose a penny again.
Detecting Bitcoin Ponzi schemes
Identifying a Bitcoin Ponzi scheme is not hard. Just know that if it sounds too good to be true, it is a scam. It is also advisable to research the company before investing with them. If they are new and boast of lucrative returns, then it is likely that they are running a Ponzi instead of a legit investment program. The common factors that signal a Bitcoin Ponzi Scheme include:
A new domain
We can easily detect Bitcoin Ponzi schemes by their domains' age. Domain age refers to the period a site has been online or active. Usually, the Ponzi website domain age ranges from one to four months. You can easily check a domain age using SmallSeoTools or WebsiteSeoChecker. If the domain age is under six months, it is among the signs of a Bitcoin Ponzi program. However, many scammers are taking advantage of expiring domains to counter this factor. There are thousands of expiring domains getting sold on places like Godaddy and choosing any of them to run illicit programs would likely lure novice investors.
Offers a high return
The main recipe for a Ponzi scheme is its abnormal return on investment. A Bitcoin pyramid platform makes exaggerated claims such as increasing their capital by twofold within a few hours, for luring people getting started with the Cryptocurrencies. Ponzi schemes offer lucrative investment plans to increase the investor's participation in the newly made program with no due diligence. Millennials entering Cryptocurrencies usually come across Ponzi website advertisements on various Bitcoin and Micro Earnings websites.
Offers low investment plans and has a lower withdrawal threshold
This is by far the main reason for people burning their money in the Bitcoin Ponzi scheme. You can start investing in Ponzi sites with 0.001 in Bitcoins or $5 and see your money grow with no effort. Withdrawals are even lower, usually 0.0001 in Bitcoins or $1 to attract more investments. This also convinces investors to re-enter the program with higher deposits. Once the user can withdraw part of their investment, he believes that this is a legit website paying the users and will run forever. Further, investors also promote the program using their referral link, creating a constant flow of money into the platform.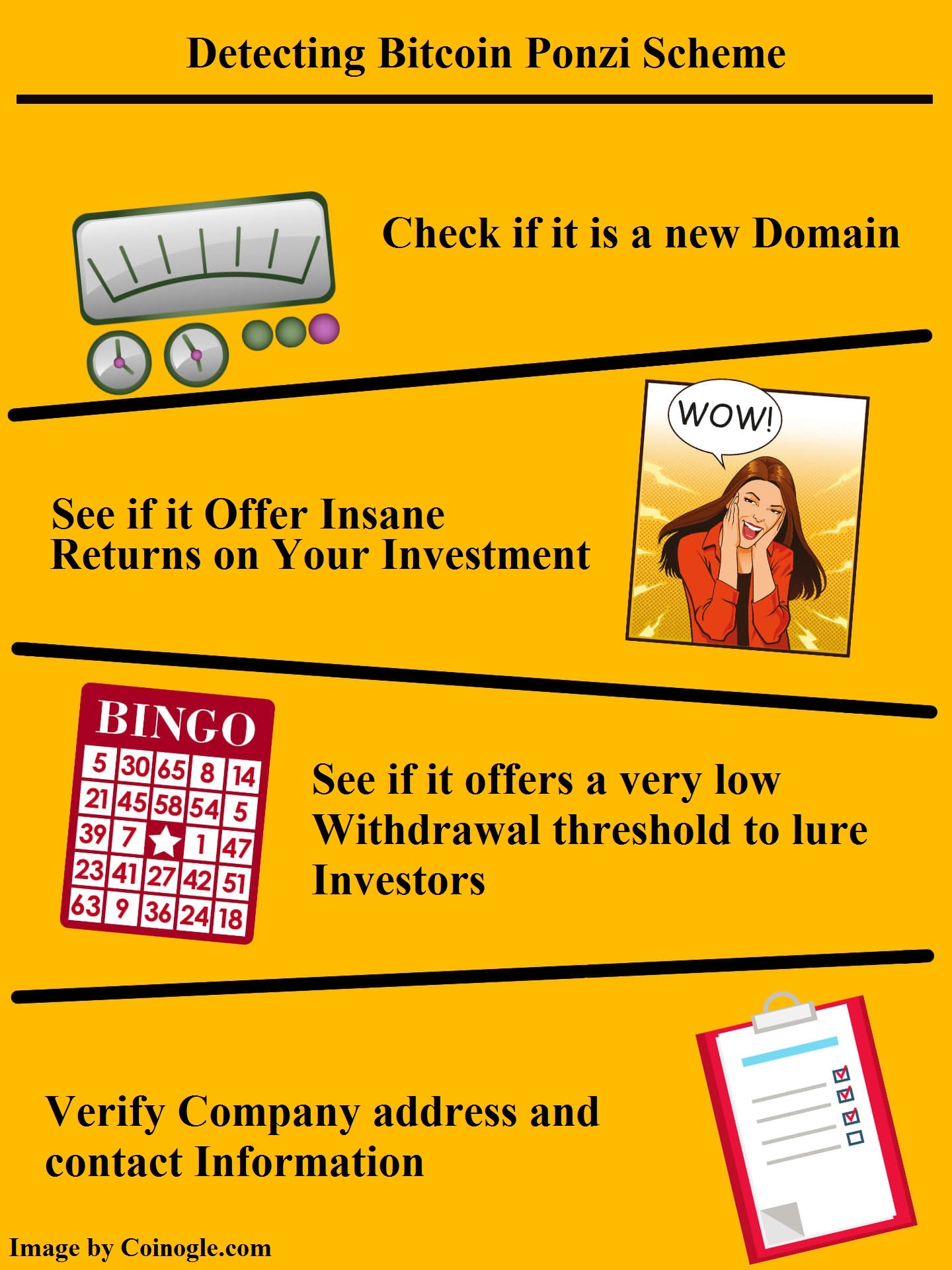 Claims to be a registered company
The HYIPs and other Bitcoin scam websites use this tactic to make investors believe that they are a legit and recognized company, usually from the United Kingdom or Singapore. Factually, it only takes 25 GBP to register a company in the UK, and you can do it online. Similarly, the website also provides a fake phone number and a company address to add authenticity to their business. However, these details are only there to convince new investors.
FAQs about Bitcoin Ponzi Schemes
Is Bitcoin Mining a Ponzi scheme?
No, Bitcoin Mining and Ponzi schemes are two different things and are in no way associated with each other. A Ponzi scheme relies on money from new investors to pay the old ones. In contrast, Bitcoin mining relies on mining equipment to generate returns for the investor.
Is Bitcoin a Ponzi scheme?
No. Bitcoin is not a Ponzi scheme. Bitcoin is a digital currency that runs on a Blockchain. It has a public ledger and does not provide any investment plan.
Why does the Bitcoin pyramid scheme scam exist?
Bitcoin pyramid scam is an easy way for criminals to collect funds and run away with no digital footprint. Because Bitcoin transactions can not be reversed, it allows them to steal people's money with a lesser risk of being detected by law enforcement agencies.
Bitcoin Pyramid Schemes–Final Thoughts
If you come across a website that offers high returns within a short period and claims to be registered in UK or Singapore, then the chances of this website ceasing to exist within a few months are very high. In short, before investing in any online Bitcoin program, ensure proper research into the platform to help mitigate the chances of fraud. Without a doubt, Cryptocurrencies have become a great source of attraction, providing financial freedom and greater control over one's assets.
Even though people such as Goldberg Peter Schiff have termed Bitcoin a pyramid scam, it continues to make headlines with rapid adoption. Bitcoin as a currency and project is not a Ponzi, but various programs are using it for such purposes. As a novice investor planning to get started with Cryptocurrencies, it is essential to learn about the Bitcoin Ponzi scheme to avoid scams and save unplanned losses.