The Active Bitcoin and Cryptocurrency Forum to Sign up Today!
A Cryptocurrency Forum can be a lifesaver for people searching or browsing about Cryptocurrencies. Cryptocurrency is a billion-dollar market with completely different dynamics and perceptions. The industry is no younger and provides financial freedom for several people.
Whether you are starting out with Cryptocurrencies or are a veteran in Bitcoin mining, you would constantly need a reliable and active Cryptocurrency Forum to discuss your queries. Signing up on an active Crypto Forum gives rise to several opportunities for individuals. This can include exposure to high-quality projects or an opportunity to know about incoming Initial Exchange Offering.
Bitcoin forums provide insights and answers about the whole dynamics of decentralized currencies. They are good to learn about the Cryptocurrency ecosystem, mining process, and trading. However, finding such a place might be difficult for beginners. If you are stuck in such a scenario, then here are some top and most active Cryptocurrency Forum you should definitely consider signing up.
Bitcointalk
Bitcointalk is one of the oldest Crypto Forum you can come across. It is the only forum where Satoshi Nakamoto had discussions with the community about the Bitcoin project. The forum also has authority in the Crypto community in terms of engagement and has over two million monthly active members.
The forum is available in many languages and is managed by a team of Crypto enthusiastic. The website was initially launched by the founder of Bitcoin in 2009. As of now, it has become a primer Cryptocurrency forum to discuss topics about trading and mining different coins and their technicalities.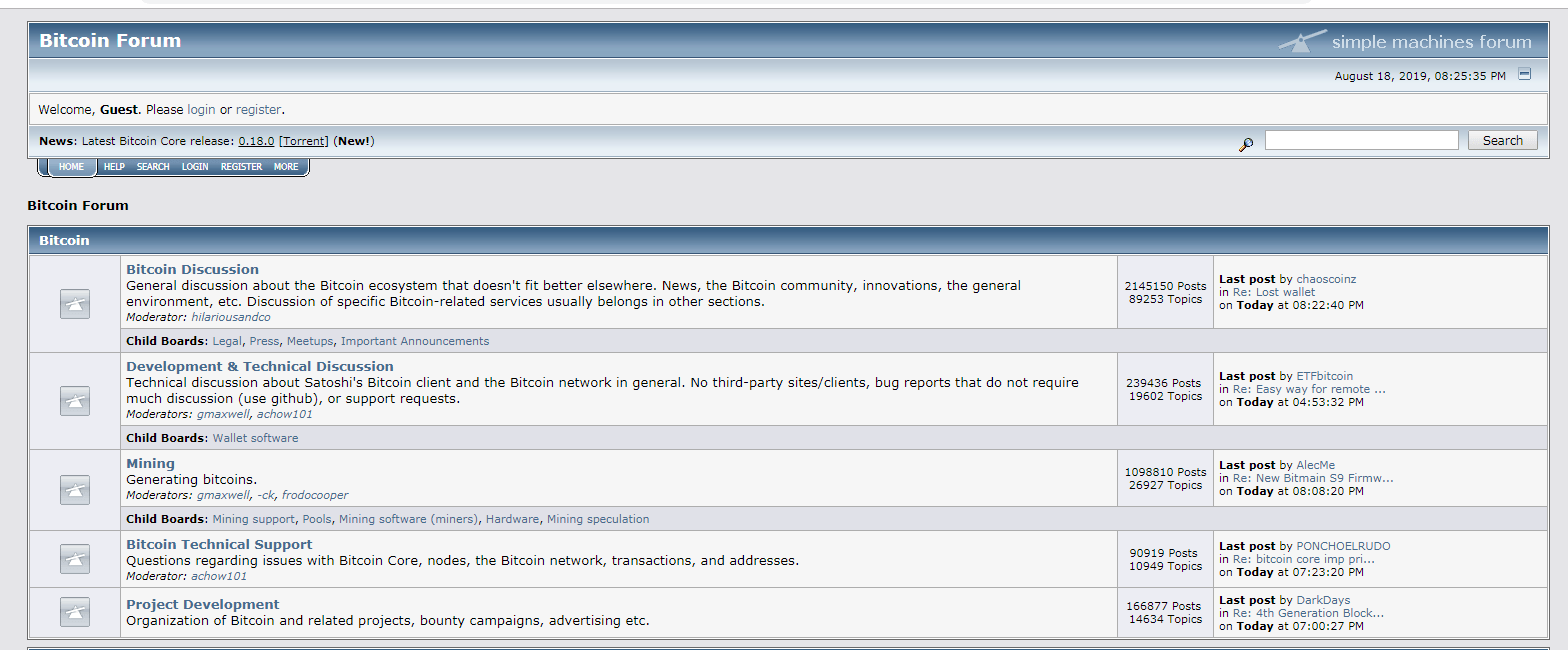 Reddit
Reddit is one of the top places to discuss and learn information about various topics. The Reddit Cryptocurrency Forum is a highly active platform with dozens of topics being discussed each day. It is a popular place to express your concerns or problems relating to Cryptocurrencies. The forum has more than a million users and consists of people that openly express their support and admiration for digital currencies.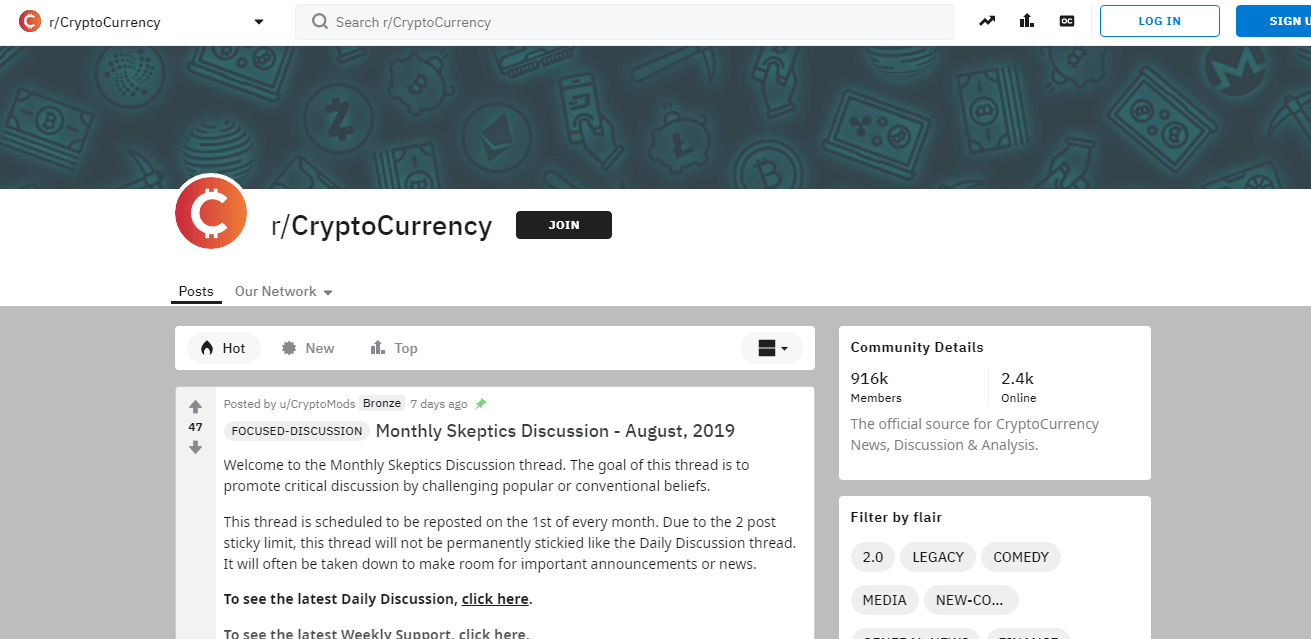 Cryptocurrency Talk
As its name suggests, this Cryptocurrency forum is a place to discuss everything about Cryptocurrencies and Blockchain technology. The forum started in early 2013 and has over 100,000 members and half a million posts. The place is an alternative website to Bitcointalk and has a ton of qualitative information for many individuals. The distinct feature of this Crypto forum is, however, its video feed that adds value to the platform and the information.
Altcointalk
As its name suggests, Altcointalk Cryptocurrency forum is all about Altcoins. It is a place to discuss different tokens and coins and their products. Altcointalk is increasingly becoming a popular forum for Crypto enthusiastic since it provides first-hand information about various Altcoin giveaways and airdrops. The Altcoin forum is available in more than a dozen languages and contains over 200,000 topics to browse. Besides, the most enticing part of this forum is the reward and tokens they distribute to members based on their activity.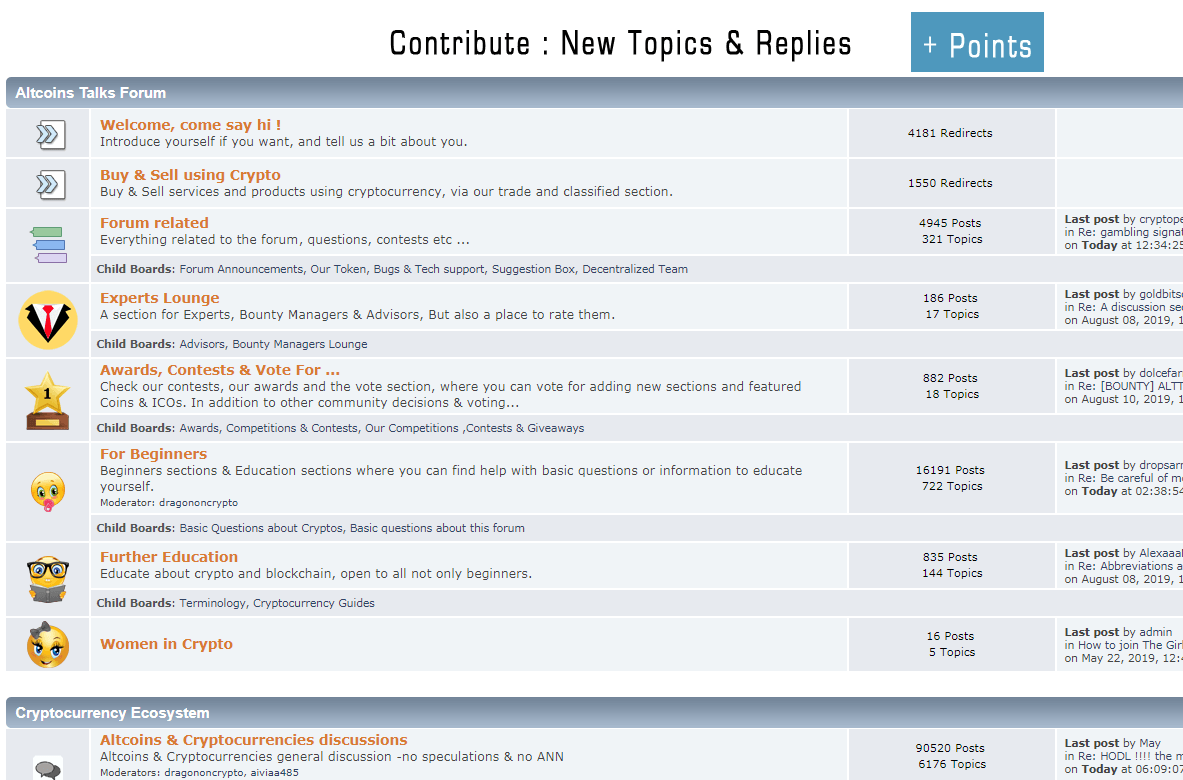 Cryptocompare
Cryptocompare forum started back in 2014 and since then it has become a widely accepted platform to discuss various events and news about Cryptocurrency. Besides hosting a forum, it also provides various services for Cryptocurrency users. Members of Cryptocompare can talk about different Altcoins, browse news, read about market analysis and talk about topics relating to Crypto exchanges. The best thing about this forum is its "Coin Board" feature, giving every community a platform to discuss their project.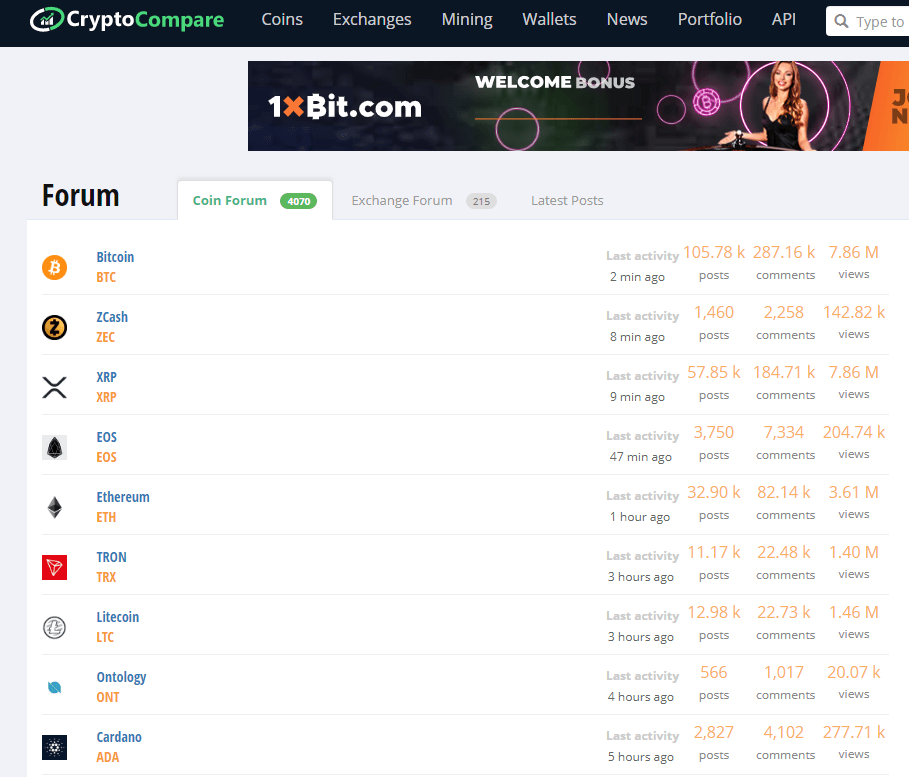 BitcoinForum.com
If your main interest is in Bitcoin, then this forum will surely be your choice. Bitcoin Forum is a place to specifically talk and discuss Bitcoin and the innovation surrounding it. The forum gives some spotlight to Altcoins and other Tokens but its main purpose is to educate and transmit first-class Bitcoin news and information for its users. The forum has more than 50,000 members and more than 20,000 topics in several categories.
Beer Money Forum (BMF)
The Beer Money Crypto Forum is the place for people starting out with Bitcoins. If you are looking to make an investment in Cryptocurrencies or planning to make some Cryptos online, then this place will surely be your guide. BMF has tons of information about methods to collect various Cryptocurrencies. However, the forum also has many scammers and deceptive advertisers, so be careful before joining any investment program through the platform.
Bitcoin.com Forum
Forum Bitcoin is a place to talk about two things - Bitcoin and Bitcoin Cash! The forum is managed by the founder of Bitcoin Cash and actively promotes BCH over BTC. Although the website has a dedicated section for Altcoins, the most activity you will see on this website will be about Bitcoin. The forum is available in more than a dozen languages and consists of over 30,000 monthly active members.