Initial Exchange Offering (IEO) | What is the Buzz About It?
Initial Exchange Offering (IEO) is the buzzword of 2019. After the Chinese and American ban on Initial Coin Offering (ICO) in early 2018, the Crypto start-ups look for new ways to fund their project. The event leads to the popular idea of modern-day IEO instead of ICO making it the new alternative for fundraising. So what exactly is an IEO and what benefit does it provide?
What is IEO?
Initial Exchange Offering is an event similar to ICO but varies depending on the way it occurs. In an IEO the Cryptocurrency exchange administrates and controlling the funds of the investors, unlike ICO.  IEO Crypto exchange services also make it more appealing to the investor to invest in a startup. However, IEO investors should still pay their due diligence and conduct research about the team and project before making an investment decision.
An IEO Crypto service also increases the trust between the startup and investors, in turn,  helping the project reach its soft and hard caps. Initial Exchange Offering for a token also enables the startup to list on the exchange and quickly receive liquidity for its trading pair. However listing fees on popular IEO Crypto platforms might be costly, but this can be overcome by offering a percentage of tokens to the exchange.
Another benefit for investors is that they don't need to be technically sound and have access to private keys to take part in the ICO.  Instead, he needs to create an account on the Cryptocurrency exchange platform featuring the Initial Exchange Offering for the project. In general, IEO is similar to ICO with a little variation. The main difference between them is the way they are conducted by the startup. Similarly, both of them have their benefits and limitations but with IEO's in demand, ICO is quickly losing its charm.
How to participate in an Initial Exchange Offering (IEO)
As of now we already know what is IEO and how does it work. Well, how about digging further and analyzing the step through which you can participate in an IEO Crypto with no hassle. Below are the steps an investor goes through to participate in an Initial Exchange Offering and purchase token via a Cryptocurrency exchange.
Check for IEO issuance
Even though IEO is becoming a popular method to raise funds, many startups still go forward with an ICO. It brings a major problem for an investor looking to participate in the project. Hence before investing in a project make sure that they will opt for an IEO. If not, then you need to look for other projects.
Research about the Cryptocurrency exchange
Cryptocurrency exchange IEO platforms don't work similar and there can be great differences between them. Some doesn't allow the customer to make an investment in IEO Crypto without passing the Know Your Customer (KYC) procedures. In contrast, others would go opposite and will allow investors to invest any sum of Bitcoin without passing any KYC requirements.
Sign Up on the exchange
Once you are done researching regarding the exchange, then it is time to sign up. Create an account where the project will be hosting their Initial Exchange Offering and go through the necessary requirements to participate in fundraising.
Check Which Cryptocurrency will be accepted
During the Initial Coin offering a Cryptocurrency exchange can accept various forms of payment. This can include Bitcoin, Litecoin or any other token they prefer. Once you have passed the KYC requirements, you can fund your account with the acceptable method of payment. After making the deposits wait for the initiation IEO Crypto to make your purchase.
The IEO Benefits - A new Alternative to ICO
Initial Exchange offering benefits are numerous, both for users and the exchange. IEOs not only works as a new alternative to ICO but also provides ample advantage to the crowdfunding ecosystem. After getting to know what is IEO, people usually get curious as to why it became a popular means of funding. If this is you, then here are the reasons for IEO taking over ICOs
Exchange Listing
Negotiating a listing with a good exchange is becoming hard for many Crypto projects. Besides, exchanges are charging thousands of dollars in fees to list a new token or coin on their platform. Dealing in Crypto exchanges are becoming complex and startups are spending millions to build equity and liquidity for their projects.
One of the IEO benefits is by reducing the time it takes for a project to list on an exchange. The Cryptocurrency exchange where the IEO was conducted lists the coin after the end of crowdfunding.  It is a natural process and boosts investor confidence in the new project.
Make use of existing user base
Honestly, marketing an ICO is very difficult. Even after spending thousands of dollars projects only find a handful of investors willing to invest in their startup. The issue of trust and developer credibility is another reason as to why ICOs are fading which, in turn, force to them to look for IEO benefits.
Another benefit of Initial Exchange Offering is its ability to tap into the exchange existing user's base to raise funds for its project. This heavily cut down marketing cost and provides instant exposure to the new coin. Also, many IEOs sold out easily on popular exchanges diminishing the time it takes to reach the hard cap.
Adds Trust and Credibility
One of IEO Crypto benefit is its ability to add trust and credibility to the project. Since an IEO is conducted on a Cryptocurrency exchange, the counterparty is responsible for screening the startup before offering them the opportunity to raise funds on their platform.
Exchanges don't want to list scam projects as this would damage its reputation. Similarly, conducting IEOs for a solid project means more exchange volume for their platform. Hence, exchanges need to maintain their reputation by carefully screening the token issuer. In other words, one of IEO benefits is its ability to eliminate scam and dubious projects from raising funds using a Cryptocurrency exchange.
Initial Exchange Offering Platforms
Most Cryptocurrency exchanges such as Binance, Kucoin, and etc have their IEO platform to launch the fundraising campaign for new projects. To conduct the Initial Exchange Offering, the fees of exchanges can vary anywhere from one Bitcoin to over five Bitcoin. However, projects with a solid product or use case can have their IEO with lesser fees and can also use a percentage of their tokens to finance its listing. However, if you are looking for a full list of IEO platforms, then below is an infographic image detailing most of them.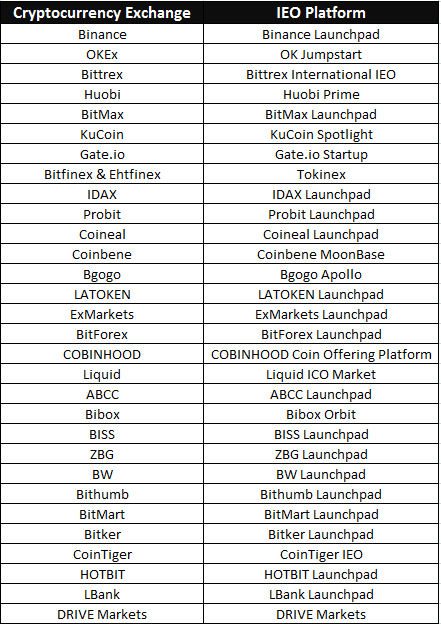 Wrapping Up
Reading the IEO benefits, it is evident that it is a lot safer and secure investment than ICOs. They are less risky and aren't likely to fail. Initial exchange offering a new alternative to ICO brings more trust and credibility to the project. It enables instant listing to a Cryptocurrency exchange and ensures liquidity to the investors.
The ICO craze has cool off, and investors are now looking for IEO projects across the range of Crypto exchanges. After getting to know what is IEO and how IEO Crypto benefits the project, investor and user, we can feasibly say that it creates a win-win situation for everyone.