Javascript Mining | Best CoinHive Alternative for 2019
Javascript mining has become a popular service and is known for taking control over your CPU to mine digital currencies. As per the Malware bytes, the hidden web miner codes are an increasing threat to our desktop and mobile device since it can heavily impact our browsing experience while taking over our idle resources.
If you are into Cryptocurrencies since late 2017, then you might probably be aware of Coinhive Monero web mining. Coinhive was the most popular provider of embedded Javascript miner and was mining more than $250K per month.
Although, with falling Crypto prices and rising mining difficultly the service ceases to exist. This event forced many webmasters to look for Coinhive alternatives. Many new startups saw this as an opportunity to make profits, and several platforms quickly pop up in the Crypto community to take advantage of the situation.
The competition between these platforms leads to more ethical web browser mining as they began granting the user the control of the hidden Javascript miner. In addition, services such as JSEcoin and Webchain, came up with a different idea, in contrast to the traditional javascript mining, pushing them to the top ranks. If you are looking for a coinhive alternative, then the below platforms should be in your checklist.
JSECoin
JSECoin is not another Monero web miner service; rather, it is a profitable and convenient way to monetize your website. The service lets you mine their token, running on Ethereum Blockchain. Besides, a webmaster can effectively make more money in JSE in comparison to other Coinhive alternatives.
Their website describes JSE as simple to use Cryptocurrency meant for Digital advertising. JSEcoin has its products, and it is among the first Blockchain project to introduce Ad Exchange and In-text advertising. The coin came into inception to tackle the growing influence of GPU and ASIC mining rigs taking over Cryptocurrency mining. To counter their impact, the team behind the project made JSE a browser-based Cryptocurrency, and you need to run their built-in JS miner on the platform to mine the tokens.
However, the coin is recently struggling to find support after falling from 70 Satoshis to 4 Satoshis at the time of this post. The project is also centralized, and there are multiple reports of people getting their account banned with their earnings fortified. As at the time of post, JSE is traded at two Crypto exchanges including LaToken.
CoinIMP (Webchain) Javascript Mining
Not a fan of centralized Cryptocurrency project and want full control over your Javascript miner? CoinIMP is the answer. CoinIMP helps webmaster by providing an easy to use JS miner where you can control thread and CPU throttle, unlike JSECoin.
The platform describes itself as an effective Javascript miner, which can easily be embedded on a website. The project also supports web browser mining so individuals can mine Cryptocurrencies without investing in expensive ASICs or GPU rigs.
CoinIMP is more than a conventional Coinhive alternative as it provides the option to mine two different Cryptocurrencies. Using their JS miner, you can make Monero or Webchain token, depending on the profitability. Webchain is a token by CoinIMP to provide greater feasibility for web browser mining. The token helps to reduce withdrawal fees for webmaster and assist in faster transactions.
WebMinePool
If you are not a fan of mining Ethereum based tokens or are not willing to take risks of mining new Cryptocurrencies than WebMinePool (WMP) should be your likely fit. WMP is the oldest Coinhive alternative with decent payouts and regular updates. Webmasters can add WMP Javascript mining service to provide an ad-free experience to visitors in exchange for their computational power.
The platform provides Monero web miner service almost similar to Coinhive. In addition to their web browser mining service, it also helps individuals to mine Monero using Desktop devices (Non-Browser Based). Besides, you can also add their Captcha service to prevent Bots and Bruteforce attacks hampering your web or mobile app.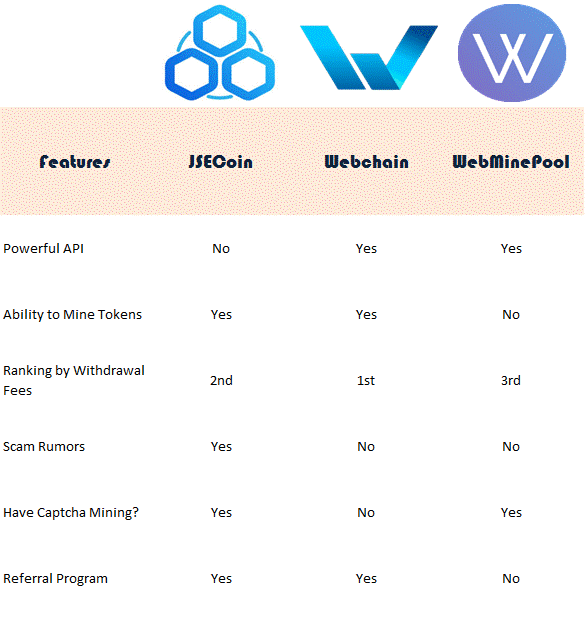 Javascript Mining in Conclusion
Web browser mining is constantly evolving. Even though Coinhive has closed its web miner service sighting to operational loss and poor market conditions, it still remains a dominant factor to generate additional revenue.
On the other hand, Anti Malware and security firms such as Symantec are regularly updating their definition of virus and Trojans to include hidden Javascript mining as a potential threat to the user's system. These measures bring further complications for Webmasters, in turn, forcing them to opt for Ethical web browser mining practice, which includes informing the user about their excess CPU usage.